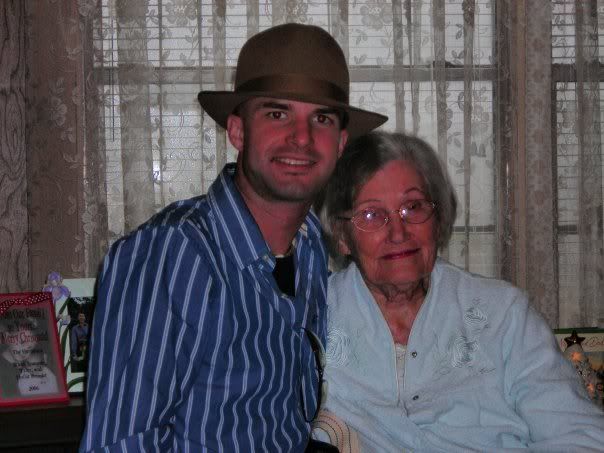 First of all thanks to the many of friends who expressed their concern for me through via my cell, facebook, or BT (my training log) and on her too!


No one can argue that my Grandma wasn't a strong woman. She definitely beat expectations of many people. Heck, if she had been a post Title IX babe she would have been steller endurance athlete. Grandma was a good woman who cared A LOT for people even when other people didn't give a care back. My grandma was a strong woman who led a life that God would want her to live, despite the occasional curse word I would hear her say (usually at my Pa ;) . I spent many weekends at my grandparents house growing up as kid, she loved her children, grandchildren, and her 4 great grandchildren immensely. She cooked some of the best meals ever (sorry mom you do too, but this one's for Grandma). Two weeks ago from today she had a massive stroke, she made it a week and half. The last time I saw her was that upcoming Sunday. When she saw me her eyes lit up, even though she couldn't say anything. I am pretty sure she could somewhat hear. The only thing I really said to her was that I loved her over and over again as I held her fragile hand. This has also been the first time I've seen my emotionless grand pa break down, so we atleast know now he has a heart somewhere, haha.
Here is her obit.
Ruth Lucille Ward

Services for Ruth Lucille Ward, 91 of Timpson, will be held at 11 a.m. Thursday, February 26, 2009 in the Taylor Funeral Home Chapel with the Reverends Sammy Eldredge and Justin Coburn officiating. Interment will follow in the Corinth Cemetery. Mrs. Ward died on February 23, 2009 in a Nacogdoches hospital. She was born June 7, 1917 in Gary to the late J. Hugh Pike and Lavada Sessum Pike, the nineth of twelve children.Mrs. Ward was a homemaker and a devoted wife, mother and grandmother. She loved her Lord and Savior, family and friends. She was a member of Timpson Missionary Baptist Church. She was a wonderful cook, especially good were her pecan pies, and she always made sure there was something to eat at mealtime. She was an excellent seamstress and made some very pretty dresses from old cloth and feed sacks for her girls when they were growing up. She always took pride in her home and enjoyed gardening. She grew and sold some of the prettiest vegetables.Mrs. Ward is survived by her husband of almost 70 years, L.M. Ward; daughters and sons-in-law: Carolyn and John Garcia, of Lufkin, Judy and Wiley Rice, of Center and Glynis and Johnny Ritter, of Carthage; five grandsons, John Keith Garcia, of Nacogdoches, Mark Herndon and wife, Leslie, of Liberty, Ward Herndon and wife, Sommer, of Center, William Ritter, of Gun Barrel City, and Larkin Ritter, of Longview; four great-grandchildren and a number of nieces and nephews.In addition to her parents, she was preceded in death by four brothers and seven sisters.Pallbearers will be Mrs. Ward's grandsons and great-grandson, John Mark Henderson. Visitation will be held from 6 to 8 p.m. Wednesday, February 25 at Taylor Funeral Home. Services will be under the direction of Taylor Funeral Home, of Timpson.
M.B.A. school is going good this semester so far. Thank God for study buddies! I have two more weeks to go in this class so far I am holding steady with a middle B. My first two test have been just above the average which I am actually thrilled about because I never been the "smart one" so being "above the average" is defintely good for me. I have to work really hard at it though.
Training was a bit sketchy this week due to the death of my Grandma. Monday night when I heard about it I had trouble sleeping so I went running. No glasses or contacts, I couldn't see anything. I ended up turning on a road I had no intentions on turning on and didn't know it until I was about back where I started. Then the next night I had to take a test then I rode my bike at midnight at work on the trainer. Then yesterday I had my first flat on the bike riding around Timpson, Texas and I didn't have my CO2 cartridge/tubes so I had to call my mom to get me. Today was my first open water swim (ows), since last year. The water was COLD!!!! Especially the first two minutes. I just kept swimming around near the dock thinking about getting out then finally my feet felt better. My grandpa said if I wanted to exercise then I should go rake the yard, but there wasn't any leaves to rake so that didn't get done.
Tomorrow I am racing in the Radio Shack Cowtown 10k in downtown Fort Worth. Leaving here about 4:30 a.m.